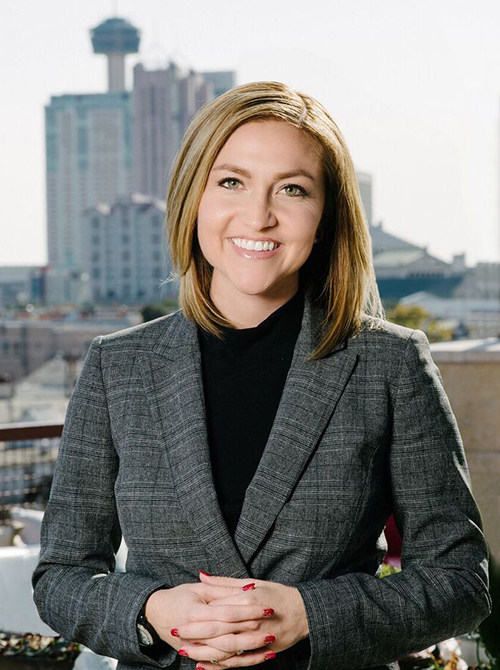 Jenna Saucedo-Herrera joined the San Antonio Economic Development Foundation (SAEDF) as president and chief executive officer in July, 2016. In this capacity, she is responsible for advancing the diversification and growth of the San Antonio regional economy through domestic and international business development, partnerships and market strategies. She also works in close partnership with the San Antonio Works board and executive team, an organizational component of the broader SAEDF operation, to develop career pathways and bring experiential learning opportunities to students and educators throughout San Antonio and Bexar County.
Before joining SAEDF, Saucedo-Herrera served as Vice President of Public Affairs and Brand Management for CPS Energy where she led the economic development, corporate communications, marketing, and corporate responsibility functions for the organization.
Saucedo-Herrera has received accolades including: the "2015 Women in Leadership Award" and the "2017 40 Under 40: Woman of the Year Award" from the San Antonio Business Journal, acknowledgement by the San Antonio Express News in their "2016 Women Who Run San Antonio" feature, and recognition in Culturemap's "Top Texans Under 30".
She is an alumna of St. Mary's University, with a Bachelor of Business Administration in Marketing Management. Saucedo-Herrera is also a graduate of Leadership San Antonio 41 and San Antonio Hispanic Chamber of Commerce Alex Briseno Leadership Development Program. She is also a member of the Texas Women's Forum and the International Women's Forum.
Saucedo-Herrera also serves on several other community boards and councils including: San Antonio Chamber of Commerce, Visit San Antonio, Free Trade Alliance, EPIcenter, San Antonio Medical